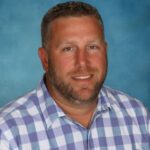 Head Coach
Levels: Varsity only grades 9-12
Game sites: Washington Park
Start times: 3:45 p.m.
Admissions info: Free
The boys' tennis team competes in the CT Technical Conference (CTC) and strives each year to make the State Tournament. The tennis team has a very unique make-up of student athletes that have never played tennis before to student athletes that are very skilled. However, we encourage all skill levels to come out for this life-long sport and you will be amazed how quickly you can develop into a strong tennis player. Each year we have athletes that place in our conference tournament, which is played at Wesleyan University, and we have athletes that are voted into All-Conference, which is comprised of the best players from our entire conference.