Computer and Information Technology Occupations – Bureau of Labor

Computer and Information Research Scientists

Computer Network Architects

Computer Programmers

Computer Support Specialists

Computer Systems Analysts

Database Administrators

Information Security Analysts

Network and Computer Systems Administrators

Software Developers

Web Developers

Connecticut Technical Education and Career System's Information Technology course breakdown by grade.

Each student is required to complete four years of a Career Technical Education program.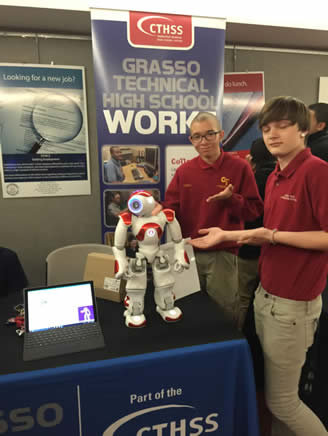 | Grade 9 | Grade 10 | Grade 11 | Grade 12 |
| --- | --- | --- | --- |
| 3 Credits | 3 Credits | 3 Credits | 3 Credits |
| Exploratory and Introduction to Information Technology | Intermediate Software Applications | Web Design and Introduction to Networking | Advanced Programming and Technical Skills |
COURSE DESCRIPTIONS*
Students successfully completing this course of study will be able to pursue a two-year computer technology degree at state colleges and universities or go on to a four-year computer engineering degree. Students can obtain immediate employment in the Information Technology area. Jobs include: help desk assistant, sales, systems technician and database maintenance, to name a few. Students graduating from Information Technology also find great success in the military in fields like communications, information management and information technician.